Unique Programs
The Katie Manson Sensory Garden
The Katie Manson Sensory Garden
The Katie Manson Sensory Garden, situated in the Kiryat Menachem neighborhood of Jerusalem, adds a new dimension to services provided for people with disabilities. The Garden constitutes a place for dynamic activity in a green, calm and relaxing setting. The Garden encourages the use and stimulation of the various senses in a supportive and accessible (for all type of disabilities) location, employing equipment that was planned by a group of professionals specifically for this purpose.
The Garden's equipment, carefully designed to respect adults and their needs, is suitable for all ages. The Garden is divided into four areas corresponding to different senses: touch, sight, hearing and smell. The division intensifies sensory stimulation and enables each of the senses to operate independently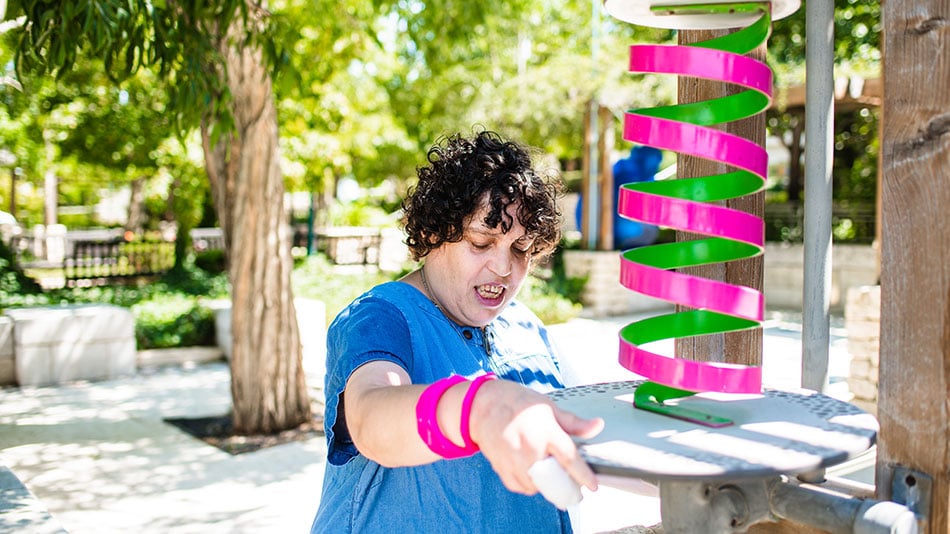 Partners
The Garden is operated by Israel Elwyn and was established thanks to the generous assistance of the Manson Family of Manchester, UK, together with a group of philanthropists who contributed to the Garden through the Jerusalem Foundation. Additional partners in the Garden project include: The Shalem Fund; The Albert Beresin Trust; United Jewish Appeal of Manchester, England; The National Insurance Institute of Israel's Fund for the Development of Services for People with Disabilities; the Ministry of Welfare and Social Affairs and the Social Services Department of the Municipality of Jerusalem.
For Additional Information and to book a guided tour